Wine, despite its many centuries of history, is still expanding with respect to publications defining its legal context. A general Westlaw or LexisNexis search yields [American] case law dating back one hundred years ago or longer, in addition to journal and law review articles. A generic Google or search engine pursuit for "wine law" provides an overwhelming result in numbers, much of which must be scrutinized vigilantly. Regardless, these searches still reveal relevant information, including contemporary legal issues, and a strong history of alcoholic beverage regulation and the law.
For a non-legal reader who does not have access to legal databases, two books presenting a historical perspective on wine and the law in America are great reads. To my knowledge, these editions are the only two books focusing on wine and law in America. For any individual with an interest in learning more about wine and the law, these two publications are a great start.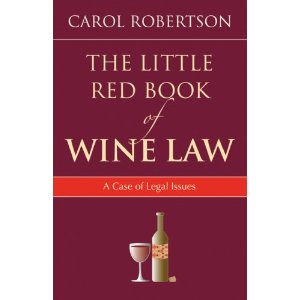 1. The Little Red Book of Wine Law, Carol Robertson
The Little Red Book of Wine Law was my first purchase pursuant to my quest for wine law academia. The publication is a collection of discussions on about a dozen cases ranging from early twentieth century (pre-Prohibition era) to early twenty-first century. Ms. Robertson selected an assortment of winery cases and addresses a fine range of legal issues in the wine industry: intellectual property, real estate, environmental law, direct shipment, labor law, and, among others, appellation and wine composition. The contribution is a great start for individuals who seek a general background on wine and the law.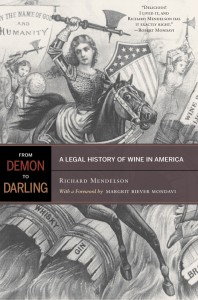 2. From Demon to Darling: A Legal History of Wine in America, Richard Mendelson
From Demon to Darling offers a history of wine law in America, from the colonial era to the contemporary period of Granholm v. Heald. Mr. Mendelson addresses social and religious concerns of Americans during the colonial period with respect to wine and paints a picture of the country's evolution throughout the last three centuries. It is probably the most in-depth historical piece I have come across in my research as a wine law advocate and is highly recommended.
Mr. Mendelson is a lecturer of law at the Berkeley Law School and is known for his class on wine law. He also travels throughout the States and lectures on wine and the law at many law schools.
(Photos courtesy of Amazon.com and University of California Press, respectively.)