The topic of this article was prompted by the suggestion of Joy Alessandra Kull '09, a colleague of mine from the Cornell University School of Hotel Administration who is professionally involved with the wine industry.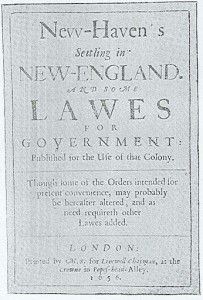 Historical Context of Early Alcoholic Beverage Regulation
One of the most captivating aspects of wine law that I have discovered in my study as a student thus far is its continual, modern-day links to its unique history. It is difficult, if not impractical, to gain a comprehensive understanding of wine and the law in America without examining the historical perspective of alcoholic beverage regulation. Many may point to the ratification of the 18th Amendment of the United States Constitution in 1919 or the repeal of same through the 21st Amendment in 1933 as the exploratory provision of alcoholic beverage regulation. And to some extent, the time period of Prohibition and the repeal of same, is quite certainly a pinpoint of American attitudes and social viewpoints toward alcoholic beverage regulation. However, these sentiments and concerns did not emerge with the birth of Prohibition, as American attitudes had long before been favorable of furthering temperance (and curtailing intemperance) through regulations, restrictions, and penalties.
The earliest wine laws in America were created by European colonists, specifically Puritan settlers, who brought with them an attitude of abstinence from alcohol consumption, believing intemperance promoted impropriety and lethargy and was sinful. Many early laws published public drunkenness, as well as excessive consumption in private institutions, such as colonial inns. Alcohol regulations were initially mostly localized, but as demographics and social attitudes changed, and as immigrants from countries such as Ireland and Germany sought new lives in America, many directives became statewide prohibitions on alcohol consumption as a way to more broadly control social stability.

The Birth of the Blue Laws
With the increasing desire to regulate alcoholic beverage consumption and preserve social morals, many states enacted Blue Laws. The Blue Laws received their name because to be "blue" was to be "puritanical." (Some also say the Blue Laws were originally written on blue paper, although insufficient evidence confirms such.) The laws were designed to enforce religious observance and standards, explicitly to preserve Sunday as a day of religious worship and rest. Many of the laws restricted shopping on Sundays and required closure of stores and establishments that sold and/or served alcoholic beverages during certain hours on Sundays. The rationale behind such legislative action was that individuals should spend Sundays in church and not consume (or, at least, not purchase) alcoholic beverages. The most notable state to have enacted such laws (and to still enforce some aspects of such laws) was the state of Connecticut (although several others still do mandate liquor and alcoholic beverage stores to be closed on Sundays). Other aspects of the Blue Laws, not entailing the sale of alcohol, have since been repealed or declared unconstitutional.
States that still enact various parts of alcoholic beverage restriction provisions of the Blue Laws include Arizona, Arkansas, Colorado, Connecticut, Florida, Georgia, Illinois, Indiana, Iowa, Louisiana, Maine, Massachusetts, Michigan, Minnesota, Mississippi, Missouri, New Jersey, New Mexico, New York, North Carolina, North Dakota, Ohio, Oklahoma, Oregon, Pennsylvania, South Carolina, Tennessee, Texas, Utah, Virginia, Washington, West Virginia, and Wisconsin. Because these laws are enacted by the legislature of each state, the specific language of the laws varies conditional to each state. However, the essential purpose is still the same: to trump sales of alcoholic beverages during certain hours on Sundays.
The state of Connecticut remains one of the strictest, if not the strictest, state with respect to sale of alcoholic beverages on Sundays. Presently, liquor sales are illegal on Sundays in the state of Connecticut and stores selling alcoholic beverages cannot remain open later than 9:00 PM on other days of the week. Additionally, restaurants and bars cannot sell alcoholic beverages or liquor after 1:00 AM on Sundays through Thursdays and can only remain open until 2:00 AM on Fridays and Saturdays. Connecticut remains the only state in the Northeast that prohibits store sales of alcoholic beverages on Sundays.
A Constitutional Nexus
In recent decades, many have challenged the constitutionality of the Blue Laws for restricting commercial activity on Sundays. The landmark Supreme Court case, McGowan v. Maryland, 366 U.S. 420 (1961), with respect to a challenge of Maryland's Blue Laws held that such laws were not unconstitutional and did not violate the Free Exercise Clause nor the Establishment Clause of the United States Constitution's First Amendment. In its reasoning, the Court noted that while the origin of Blue Laws was to promote traditional Christian values and church attendance, the contemporary laws of Maryland allowed for a "uniform day of rest" for all constituents through the promotion of social values and well-being, irrespective of religion.
Currently, many residents of Connecticut are in favor of ending the Blue Laws that prohibit the sale of alcoholic beverages on Sundays. Individuals argue that enforcing such "antiquated" laws results in lost revenue for alcoholic beverage stores and is less convenient for consumers. Additionally, some state that alcoholic beverage stores in Connecticut that border on other states lose business to stores in neighboring states that are permitted to sell alcoholic beverages to consumers on Sundays. Finally, supporters of repealing the Connecticut Blue Laws postulate that, "according to a December 2009 report issued by the General Assembly's Legislative Program Review and Investigations Committee, the state could see an increase of up to $8 million in new revenue if the Sunday alcohol sales prohibition were repealed." (See End CT Blue Laws.) Regardless of what is in store for the Blue Laws of Connecticut or any other state within the United States, it cannot be argued that Puritan values and the effects thereof no longer linger within the states.
(Image Credit: Christians War Over Worship Day and Sunday-Closing Laws, respectively.)
For more information on wine or alcohol law or blue laws, please contact Lindsey Zahn.
DISCLAIMER: This blog post is for general information purposes only, is not intended to constitute legal advice, and no attorney-client relationship results. Please consult your own attorney for legal advice.