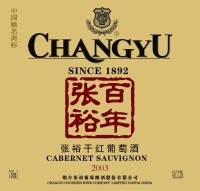 Recently, Yantai Changyu Pioneer Wine ended a 10-year dispute with six wine companies over legal entitlement to the Cabernet trademark (解百纳 or phonetically, "Jie Bai Na"). The dispute over the trademark questioned whether Changyu could dominate the Cabernet trademark as its common ingredient used to produce wine and as a common industry term. In the settlement, Changyu agreed to share the Cabernet trademark with the six wine companies—Cofco Wines and Spirits, Cofco Great Wall (Yantai) Wine, Cofco China Great Wall Wine, Cofco Great Wall Wine, Sino-French Joint-Venture Dynasty Winery and Shandong Weilong Wine—without charge and without a time limit. (SeeCapitalVue News: Changyu Wine Settles 10-Year Legal Dispute.) Other wine producers are not authorized to use the Cabernet trademark. For more information on the chronology of the lawsuit, as well as on the trademark Cabernet, see Cabernet: a Brand or Generic Name?and Wine Confusion: Trademark Dispute Over Cabernet.
Yantai Changyu Pioneer Wine Company Limited is chiefly employed in the manufacturing and sale of wines and other alcoholic beverages. The company distributes mainly in the China coastal areas, as well as the middle and western portions of the country. For more information on Changyu Wines, see Changyu Homepage.
(Image Source: The Wine Economist.)
DISCLAIMER: This blog post is not intended as legal advice, and no attorney-client relationship results. Please consult your own attorney for legal advice.