I recently discovered additional reading material relating to wine and law that has more of a political forefront. I am yet to read either of the books in this entry, but from their summaries online, they look like attractive reads for anyone interested in wine law (and they are on my reading list for the summer!).
Wine and War: The French, the Nazis, and the Battle for France's Greatest Treasure, by Donald and Petie Kladstrup.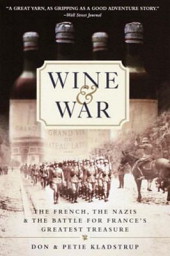 Most of us are familiar with how, in 1940, France fell to the Nazis during World War II — but how many of us are familiar with the successive battles over esteemed French wines? French winemakers have their own story behind World War II, the course of which is resurrected in this piece. "This is the thrilling and harrowing story of the French wine producers who undertook ingenious, daring measures to save their cherished crops and bottles as the Germans closed in on them. Wine and War illuminates a compelling, little-known chapter of history, and stands as a tribute to extraordinary individuals who waged a battle that, in a very real way, saved the spirit of France." (See Wine and War: The French, the Nazis, and the Battle for France's Greatest Treasure.)
Wine Politics: How Governments, Environmentalists, Mobsters, and Critics Influence the Wines We Drink, Tyler Colman. What substance is more regulated by our country than wine (and other alcoholic beverages)? It is simply unfathomable, at times, how politics steer the direction and results of wine legislation. However, there is certainly a direct connection (as evident in many On Reserve entries and from hundreds of court cases), and Wine Politics reveals this. "In this economic history of vino, writer, teacher and blogger Colman explains how the wines we drink-that is to say, the bottles that wind up on the shelves and on our tables-are shaped by politics: 'not only which grapes grow where, what can be written on the label, which wines are exported or imported, which wines are available in local stores, and how much a wine costs, but, perhaps most importantly… affects the quality of the wine in the bottle.' Colman focuses on two of the biggest producer nations in the world, France and the United States, comparing the hold each has had on the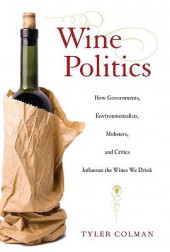 industry. In France, vines grew abundantly and consumption became a national tradition, but Americans have been trying to grow wine grapes for at least 400 years-and have really been successful only in the past 40. The author also examines the significance of terroir, wine critics and distribution networks, the alcohol laws of different states (some dating back to Prohibition) and other factors complicating the relationship between those who make wine and those who want to drink it." (See Amazon.com on Wine Politics.)
Richard Mendelson, author of From Demon to Darling: A Legal History of Wine in America, has another book to be published by Aspen Publishers this year. The book, Wine in America: Law and Policy, is available for pre-order from Aspen Publishers here.
(Images courtesy of Borders.com.)

DISCLAIMER: This blog post is not intended as legal advice, and no attorney-client relationship results. Please consult your own attorney for legal advice.