I so rarely write personal updates for On Reserve, but in light of recent developments, I am eager to share my current accomplishments and future pathway with all of you.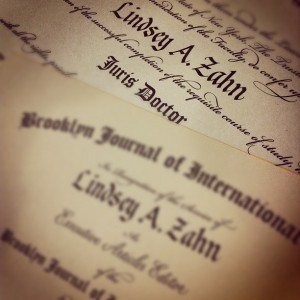 I often receive e-mails from other students asking me for advice with respect to following a career in wine and law. As recurrent as these e-mails are, I find myself puzzled in response, as I never feel I have an appropriate answer. (I was, after all, a student myself up until last Friday.) I stumbled upon this pathway by mere chance—and by virtue of a lot of fate. Whereas I may not be in the position to disseminate advice, I can say one thing about my personal experience with wine and the law: for me, the wine law path is recurring.
The true beginning for me occurred unexpectedly, in a restaurant management class instructed by Professor Alex Susskind, during my very last semester at Cornell University's School of Hotel Administration. The discovery was as much unanticipated as it was appreciated and propitious. Professor Susskind assigned an article for class one day, 'Bolt From the Blue' on a Tuscan Red, about the alleged production of Brunello di Montalcino with foreign, unapproved varietals by various Brunello producers in Italy, which violated the DOCG regulations that mandate Brunello to be produced from only Sangiovese grapes. The article significantly captured my interest immediately. I knew I was attending law school the following fall and, while I contemplated pursuing a legal career favorable to the hospitality industry, the idea of wine intersecting with the law fascinated me. At that point in time, however, I was not certain how I could incorporate this immediate interest into my law school pathway.
A few months later, I found myself directly across the table at dinner with someone who remains my biggest inspiration—and my strongest advocate. He casually mentioned (without knowing my interest) he was editing an article for his own law journal that mused about an intellectual property issue in the context of wine. This was, unquestionably, another serendipitous token for me. After he sent me a copy of the article—and after I scrutinized every footnote for supplemental reading on wine law—I began to discern that wine law could be my intended pathway, and not simply a fleeting topic of interest featured in The New York Times. But, since I was only at the beginning of my first year of law school, there was very little I could do outside outlining and briefing cases.
I started On Reserve almost two years ago, during the summer after I finished my 1L year of law school. On the brink of writing a Note for my journal—and incredibly interested in the topic of wine law—I thought there to be no better way to showcase and organize my research than with a blog. At the time, an online forum for individuals with a professional or academic interest in wine and law did not exist, but I never anticipated the continued readership and interaction I have thanks to On Reserve. I thought I was one of few interested in wine and the law, but I (gratefully) turned out to be misguided. In fact, it seemed a venue  incorporating wine and the law was long overdue in the wine community. (The Note won the 2010-2011 Trandafir International Business Law Competition and is scheduled to be published this summer.)
Over the course of the last two years, I've had the pleasure of expanding not only my knowledge in the area of wine and law, but also my contacts. I traveled through various wine regions—including Emilia-Romagna, Tuscany, Champagne, and the Douro Valley—to expand my wine vocabulary and learn about the various legislative measures pursued by each region. I spent a good portion of last summer in the Champagne region of France at the Wine & Law Program of the Unversité de Reims Champagne-Ardenne, studying under some of the most respected scholars in the area of wine law, where I received a university diploma in transnational wine trade law. Upon my return, I worked with Lot18 on some legal and regulatory compliance matters in the context of direct shipment in the States. Center for Wine Origins invited me on a trip to Portugal last fall, where I learned more about the legal measures of the Douro wine region implemented to protect the region's wine products in an international market.
Much, if not all, of these opportunities spawned from the creation and continual dedication to On Reserve. With complete probity, I never imagined, when I started this blog, that I would one day proclaim wine law to be the actual direction of my career. In fact, during some points in time, following this rather unique interest seemed implausible if not impossible. Fortunately, the rather ambitious decision to pursue a niche area of law came to fruition this last year. I am honored to say that I will begin my career as an associate attorney at an alcohol beverage law firm in the Washington, D.C. area this August.
As for what is to come, I once again find myself dumbfounded in response. I think the appropriate answer amounts to this: a lot is in store. Upon many years of practice, I hope to teach a course in wine and the law one day, and I certainly hope to publish more. However fortuitous the idea of wine and law may have been for me years ago, it is indeed my conscious pathway today.