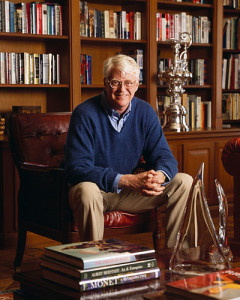 William Koch, billionaire and avid wine collector, is back in court for yet another wine lawsuit—but this one is completely unrelated to our two prior entries discussing Mr. Koch's lawsuits. In this suit, Mr. Koch is suing Eric Greenberg, a businessman and the alleged seller of counterfeit wine. Koch purchased a number of rare Bordeaux and Burgundy wines from Greenberg in the mid-2000s in the catalogue of New York auctioneer Zachys. Some of the wines are supposedly from the Napoleonic times and the Belle Epoque, and some of the bottles were purchased for at or around $30,000 each. Koch filed a complaint in 2007 in a federal court in New York, after an inspection indicating a number of the wines were fraudulent, and the case just went to trial last week. Purportedly, Greenberg was warned by experts at Sotheby's around the year 2002 that some of the wines Greenberg sought to sell at auction were counterfeit. See Billionaire Bill Koch Takes on Alleged Wine-Fraudster with Lawsuit.
In his suit, Mr. Koch claims that Greenberg either knew or should have known that the wines were not genuine. The suit started last week before the Honorable J. Paul Oetken of the District Court for the Southern District of New York. According to an article on Decanter, voir dire of the potential jurors became increasingly intense throughout the day, with a librarian who previously read books about wine struck from the jury pool. While the first day at trial dealt primarily with the admissibility of evidence from both parties, the case promises to turn increasingly personal what with Jaime Cortes, a prior employee of Greenberg, testifying against his former employer. See Koch Wine Fraud Case Turns Personal; see also Wine Fraud Lawsuit is a Test of Bottle for Billionaire Bill Koch.
What will the outcome be? Will Mr. Koch have better luck in court this year? Irrespective of what is in store for Mr. Koch's lawsuit, there is no doubt that the man stands for one thing: the fight against counterfeit wines will continue.
Two years ago, we wrote about Koch's suit against the renowned auction house Christie's, where Koch alleged that Christie's induced him to buy a fraudulent bottle of 1870 Chateau Lafite. Honorable Barbara Jones of the District Court for the Southern District of New York dismissed the case, noting that Koch placed bids on wine he knew was fake and could thus not recover for his injury. The Judge reasoned that, "[h]ere the cause of his injuries was not Christie's' misleading statements but plaintiff's desire to gather evidence against Christie's." See Christie's Wines Dismissal of Koch's Counterfeit Wine Suit. In October of last year, Koch appealed to the Second Circuit Court of Appeals and argued that the District Court erred in its application of the legal standard of doctrine of inquiry notice (among other points) with respect to his purchase in the 1980s from Christie's of wine bottles allegedly belonging to Thomas Jefferson. The Second Circuit rejected Koch's argument, but for on the grounds that the statute of limitations expired. The wines were purchased in the 1980s and Koch did not file suit until 2011, thus barring his claim.
Photograph property of Bloomberg.