This past weekend, I had the pleasure of attending a flag football game on the National Mall here in D.C. We were blessed with some favorable weather on the east coast, allowing me to fully enjoy my spectatorship on the sidelines. In the process, I struck up several conversations with fellow legal scholars, none from which the topic of wine law was absent. One chat in particular paired me with another individual who was familiar with state laws regulating alcohol beverages, and who even wrote a law review article on state laws relating to craft brewers in North Carolina. After our conversation, I started to think fondly about the journey I took some time ago researching my own Note, Australia Corked Its Champagne and So Should We: Enforcing Stricter Protection for Semi-Generic Wines in the United States, covering geographical indications and international wine trade. Perhaps my absolute favorite chapter of my career as a student was researching, drafting, and writing a note exploring the intricacies of the international overtones of wine law and various wine trade agreements. That being said, it is not every day I come across another person who did the same (or similar) during his or her own law school career.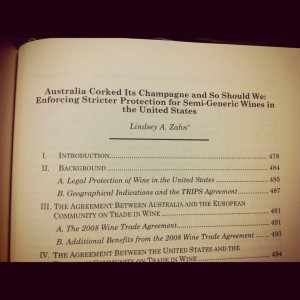 While the process of note writing is over for me, the journey I pursued three years ago for my Note remains with me on a daily basis in both my legal career and through my blog, On Reserve. The time I spent writing a note directed me to some great student work covering the wine industry, pieces that I took to heart. I felt it appropriate to dedicate an entry to some of the pieces I found most helpful during my research.
With the help of some great student work above, my own Note won the 2010–2011 Trandafir International Business Law Competition and was published in the fall of 2012. As any note writer knows, writing a law review comment is a great amount of work. But in all honesty, I enjoyed the process completely—every second of it.