On December 17, 2013, TTB issued a public guidance on Wine Export Certificates for U.S. wines that are exported to the People's Republic of China. See General Instructions for "Wine Export Certificate" for U.S. Wine Products Exported from the United States to the People's Republic of China. Previously, the People's Republic of China required U.S. exporters of wine to complete several certificates as a condition of entry. Starting March 1, 2014, China will accept a one-page Wine Export Certificate (also referred to as the Consolidated Certificate) from U.S. exporters who send wine to China. According to TTB, the Consolidated Certificate is "a multi-purpose document" as the Certificate will function as the certificate of origin, certificate of health/sanitation, and certificate of authenticity/free sale. See Consolidated Wine Export Certificate, image below.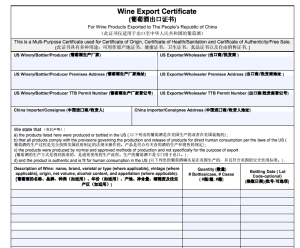 TTB notes that, once the certificate is completed, the Agency will verify that the producer holds a valid TTB permit and then sign, date, and place the TTB seal on the Certificate before returning the Certificate to the submitter. The Agency indicates that "[t]o receive an approval, the submitter must (a) possess a TTB basic permit that is in good standing, (b) fill out all required information truthfully, accurately and completely, and (c) have the Consolidated Certificate signed by a person with signing authority according to the submitter's TTB permit." See General Instructions for "Wine Export Certificate" for U.S. Wine Products Exported from the United States to the People's Republic of China. When a wine shipment arrives in the ports at the People's Republic of China, a copy of the Certificate will be submitted to both the General Administration of Quality Supervision Inspection and Quarantine (AQSIQ) and the General Administration of Customs. 
This new and consolidated process comes at a time when exports of wine are on a rise, especially with respect to China. Recently, Time noted that China's "thirst" for wine is greater than the demand for wine of many other countries, including the U.S., and the People's Republic is expected to become the "world's largest consumer" of wine by 2016. See How China Became the Wine World's Most Unlikely Superpower. It's no secret that the Chinese market has steadily developed a palate for wine, nor is it a secret that many wine producers are targeting China's market. See California Wineries Eyeing China's Wine Market. From a regulatory perspective, it is within China's best interest to make it easier for wine to be exported to the People's Republic, especially considering the growing demand of wine by its consumers. With an easier export process, such as the reduced paperwork requirement for exportation, China will likely see a greater number of U.S. wines within its borders.
Image property of TTB.gov.
For more information on wine or alcohol law, TTB, export, or international trade, please contact Lindsey Zahn.
DISCLAIMER: This blog post is for general information purposes only, is not intended to constitute legal advice, and no attorney-client relationship results. Please consult your own attorney for legal advice.