A few months ago, On Reserve reported about Napa Valley's Duckhorn Wine Co. and its suit against Long Island-based Duck Walk Vineyards. See Duckhorn Wine Co. Files a Complaint Against Duck Walk Vineyards Alleging Consumer Confusion on Wine Labels. We were a bit skeptical as to the argument for consumer confusion for these two wines, as both Duckhorn and Duck Walk wines are sold at very different price points. Further, the labels of Duckhorn and Duck Walk (when ducks are even featured on the labels of the latter) could not be more different. Finally, if one searches TTB's public COLA database, the term "duck" appears in the brand or fanciful name in well over 500 label approvals since mid-2007, including those of Duck Pond and Diving Duck. (Note: Such results in the COLA database are not indicative of the presence of trademarks, but simply demonstrate the commonality of the use of "duck" on alcohol beverage labels.) All those things aside, Duckhorn and Duck Walk did have some prior history, including a 2003 trademark suit settlement in federal court, which could certainly factor in to the weight of the Napa-based company's allegations. See Duckhorn Asks N.Y. Winery to Modify Label and Sales.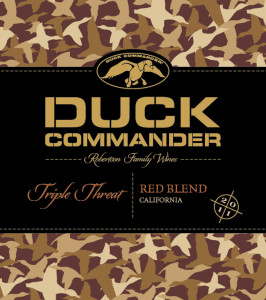 However, in recent news, the Napa Valley wine company is pursuing a new lawsuit pertaining to the term "duck" on wine labels. This time, the suit is against Trinchero Family Estates ("TFE") and its Duck Commander brand of wines. See Duckhorn, Trinchero Tussle Over Duck Commander Wines. In its complaint, Duckhorn alleges that TFE's Duck Commander name and motif "infringe" upon Duckhorn's trademark. Id. Duckhorn indicated that the intention of the lawsuit is to "prevent further confusion, dilution and reputational and other harm" to Duckhorn. Id. quoting the complaint filed by Duckhorn. The Napa-based wine company is asking TFE to cease use of the Duck Commander name and motif and pay Duckhorn compensatory damages.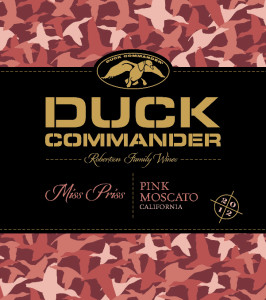 The Duck Commander brand is developed from a partnership between TFE and the Robertson family of the television show Duck Dynasty. The wines are at a price point of $9.99 and sold at Wal-Mart with names including Triple Threat Red Blend, Wood Duck Chardonnay, and Miss Priss Pink Moscato. Id. Apparently, Duckhorn is concerned that, since many retailers place wines alphabetically, Duckhorn wines could be placed next to Duck Commander wines, and argues that such could cause consumer confusion and/or dilution of its mark. "Duck Commander wines are also produced in our hometown of St. Helena (as indicated on their bottle) causing further potential confusion." Id. quoting a Duckhorn statement. While we emphasize with some of Duckhorn's concerns, we also find it unlikely that the two wines—given their clearly different price points and (arguably) diverse target markets—would even be sold at the same retailer (although not impossible).
Popular wine blogs have already created quite a stir with yet another lawsuit on behalf of Duckhorn. According to Duckhorn, however, the wine company tried to reach several "amicable" resolutions such that Duckhorn and Duck Commander could "coexist." See Napa Winery Sues Duck Dynasty Wine Brand Over Trademark Infringement. Stay tuned as On Reserve will post more updates as such become available.
Full copy of Duckhorn's complaint against Duck Commander here. 
Images Property of TTB Public COLA Database, as per this and this.
For more information on wine or alcohol law, trademark, or labeling, please contact Lindsey Zahn.
DISCLAIMER: This blog post is for general information purposes only, is not intended to constitute legal advice, and no attorney-client relationship results. Please consult your own attorney for legal advice.