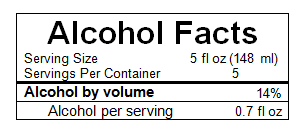 Last week, TTB updated its FAQ section on optional Alcohol Facts statements to include more information on Alcohol Facts statements (or alcohol facts panels). The updated information includes TTB's insights on whether per-serving and per-container alcohol content information can be placed on labels and in advertisements which do not contain nutrient content information for the beverage. In its updated FAQ section, the agency stated that the use of per-serving alcohol content information on labels or in advertisements (without providing nutrient content information) is permissible provided such is truthful and accurate as per Serving Facts statement under TTB Ruling 2013-2. In its updated FAQ section, TTB noted that such information should be included under a heading titled "Alcohol Facts" (as opposed to "Serving Facts") and must include the serving size, the number of servings per container, and the percentage of alcohol by volume statement along with a numerical statement indicating the amount of fluid ounces of pure ethyl alcohol per serving. See TTB: FAQs: Alcohol Facts Statements: AF1. The updated information on TTB's Alcohol Facts statements FAQs includes information on the type of serving size to use if Alcohol Facts statements are included on labeling or in advertisements, how to calculate the number of servings per container and the fluid ounces of alcohol per serving, and whether a new application for a label approval must be submitted upon using an Alcohol Facts statement, among other related information. (Generally speaking, should a beverage alcohol label Alcohol Facts statement be formatted as depicted in TTB's FAQ section AF9, a new COLA will not be required for beverage labels adding an Alcohol Facts statement; however, the agency notes that should the alcohol facts statement be formatted or positioned in a way other than those outlined by TTB, such will require a new COLA and will be approved on a case-by-case basis. See id.)
Last year, TTB issued a ruling titled "Voluntary Nutrient Content Statements in the Labeling and Advertising of Wines, Distilled Spirits, and Malt Beverages" as an interim policy on the use of Serving Facts statements with respect to the labeling and advertising of alcohol beverages. See Voluntary Nutrient Content Statements in the Labeling and Advertising of Wines, Distilled Spirits, and Malt Beverages. While this ruling spoke mostly to serving facts/nutrient content (i.e., calories, carbohydrates, fats, and protein) with respect to beverage alcohol products, the agency did remark that "[t]ruthful, verifiable numerical statements of alcohol content may be included in Serving Facts statements as an option." Id. The interim policy is pending the completion of a final rule, in which TTB "propose[s] to issue regulations requiring Serving Facts statements on alcohol beverage labels." Id. (According to TTB's 2007 proposed rule entitled, "Labeling and Advertising of Wines, Distilled Spirits and Malt Beverages," such would include information on the number of calories as well as the number of grams of carbohydrates, protein, and fat; alcohol content and the percentage of alcohol by volume would also be permitted in the Serving Facts statement. The agency received a significant amount of comments in response to the proposed rule, which can be viewed on the Regulations.gov website. See Labeling and Advertising of Wines, Distilled Spirits and Malt Beverages (Serving Facts Labeling.) While the ruling discussed including alcohol by volume statements (as well as fluid ounces of alcohol per serving) in the context of Serving Facts, the ruling did not address the ability to create an Alcohol Facts statement (as TTB's FAQ section now acknowledges).
The flexibility to (voluntarily) include an Alcohol Facts statement is great for the industry, especially for those products with previously approved COLAs. TTB's new FAQs are generally straightforward for those who wish to add the voluntary Alcohol Facts statement without nutrient content information. Further to the point, the addition of such a statement can usually be done without the need for a new COLA, which helps both industry  as well as TTB with saving time and curbing additional costs. Instituting a mandatory Serving Facts statement requirement, however, has proven quite contentious among industry members (as demonstrated by many of the comments to the proposed rule). It is true that mandating such will require industry members to redesign labels as well as analyze the contents of their products, both of which are timely and costly, however perhaps such initiative is yet another acknowledgement that the consumer demand for truth in labeling is dramatically increasing. Several weeks ago, I discussed FDA's proposed redesign of its nutrition facts panel and the impact on the alcohol beverage industry. See Is TTB Next? FDA's New Proposed Nutrition Label and its Effects on Alcohol Beverages. While it is not likely that the agency is close to establishing an FDA-styled nutrition facts panel, it is conceivable that the Alcohol Facts statement and the Servings Facts statement are both a step in this direction, i.e., a step in the direction of full(er) disclosure.
Photograph property of the Alcohol Tobacco Tax and Trade Bureau.
For more information on wine or alcohol law, labeling, alcohol facts, or TTB matters, please contact Lindsey Zahn.
DISCLAIMER: This blog post is for general information purposes only, is not intended to constitute legal advice, and no attorney-client relationship results. Please consult your own attorney for legal advice.