Here is a good, and relevant, question. What happens if a wine label boasts the term, "ORGANIC," or "CERTIFIED ORGANIC" but is neither organic nor certified as such? As organic products—including wines—become more popular among consumers, there is a greater risk of fraudulent use of the term "ORGANIC." See, e.g., Is Your Organic Food A Fraud?; OverseasCompanies Fake Organic Certificates.
Last week, The Drinks Business reported that an Australian vineyard, Kings Court Vineyards in Victoria, was accused by the National Association for Sustainable Agriculture, Australia ("NASAA") for falsely labeling its wines as "ORGANIC." See Vineyard Caught Over False Organic Claims; see also Organic Chief: We Will Discredit Firms Who Claim False Certification. NASAA, the Australian associated responsible for certifying companies as organic, issued a statement that the certifier never certified Kings Court Vineyards. NASAA indicated that the association never approved Kings Court Vineyards as organic and, as such, the vineyard has been falsely labeling its wines. The association has since obtained an injunction from the Australian Federal Court against the vineyard, preventing the vineyard from labeling its produce as organic. NASAA recited its reasoning for pursuing action to include its desired to protect truth in labeling. In addition, the association noted that there are extremely high costs associated with certifying an operator, an expense that many companies undertake to proudly proclaim their product is organic. See, e.g., Vineyard Busted for Falsely Claiming Organic Status. Additionally, NASAA commented that:
This case is not only about NASAA protecting its brand and reputation but also about defending the brand value and integrity of our certified operators.
See Vineyard Caught Over False Organic Claims (quoting NASAA general manager Ben Copeman). The association's response portrays the seriousness of certifiers with respect to the term "ORGANIC." If NASAA were inactive with respect to the above allegation, it is quite possible "ORGANIC" could lose its bite, so to speak, and many companies might be less willing to pay for organic certification.
The U.S. Regulation of Organic on Wine Labels
The United States Department of Agriculture ("USDA") promulgates regulations relating to the term "organic" and to the National Organic Program ("NOP"), which govern the handling, labeling, processing, marketing, and certification of organic products (including alcohol beverages). Such regulations are found at 7 CFR Part 205. While these regulations are not promulgated by TTB, such organic regulations must be followed when claiming "ORGANIC" on an alcohol beverage label.
In the U.S., TTB recognizes four different types of "ORGANIC" claims. They are as follows:
100% Organic—the product's ingredients are all (i.e., 100%) organic and the product does not contain chemically added sulfites;
Organic—the product contains at least 95% organic ingredients and no chemically added sulfites;
"Made with Organic [Ingredients, i.e., grapes]"—the product contains at least 70% organic ingredients (and may contain chemically added sulfites); and

If the product contains less than 70% organic ingredients or if the product is not certified by an organic certified, the product may only include organic ingredients in its ingredient statement.
In addition to the USDA NOP organic regulations, a wine label containing an "ORGANIC" claim must also comply with general TTB wine label requirements (e.g., alcohol by volume percentage statement, net contents statement, and government warning statement, to name just a few).
A TTB label application for a wine label containing an "ORGANIC" claim (i.e., other than an ingredients statement) is required to contain a document called an ACA preview. The ACA preview is issued by a USDA-accredited certifying agents (or "ACA") and contains the actual image(s) of the wine label along with the ACA's stamp or signature that the wine at issue complies with organic regulations. For more information, see Changes to the Organic Documentation Requirements. Generally speaking, if an ACA preview does not accompany an organic wine label application, TTB will not approve the application. There are several other specifications required for organic wine labels, in addition to general TTB requirements such as alcohol by volume statement, most of which are detailed here.
I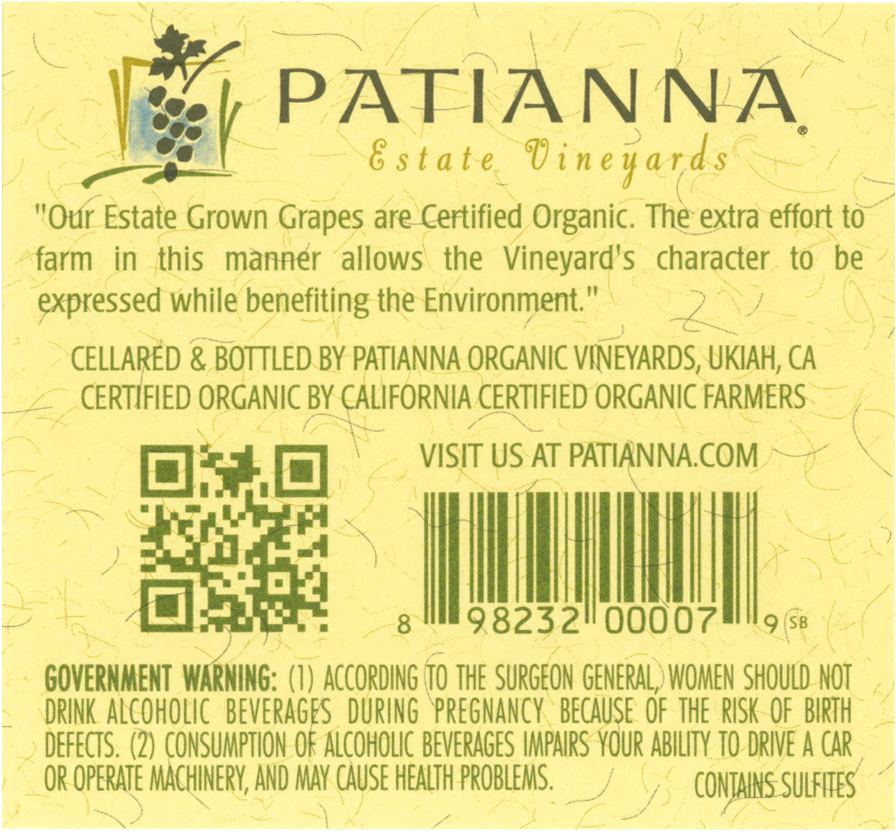 n addition to the ACA preview, TTB requires there to be a statement on the label (below the bottler or importer's name and address) which states, "Certified Organic By [Name of Certifier]." And example of such requirement is shown on the label on the right.
Similar to the NASAA's standpoint, the USDA maintains that a food product falsely represented as certified USDA organic violates federal regulations and law. The marketing, labeling, or selling of such products is punishable by fines. In some cases, the violation may be on behalf of the certifier (Some of the relevant regulations are found at 7 CFR 205.662). However, falsely representing a food product as "ORGANIC" is not always the fault of the certifying operation. In certain instances, a fraudulent organic certificate may be created without the authorization of the certifier. See, e.g., USDA Caution on Organic Fraud from China. The National Organic Program welcomes the reporting of such violations by individuals as well as certifiers and maintains an active list of such reported fraudulent organic certificates.
Image property of Patianna. 
For more information on wine or alcohol law, organic claims, or labeling, please contact Lindsey Zahn.
DISCLAIMER: This blog post is for general information purposes only, is not intended to constitute legal advice, and no attorney-client relationship results. Please consult your own attorney for legal advice.