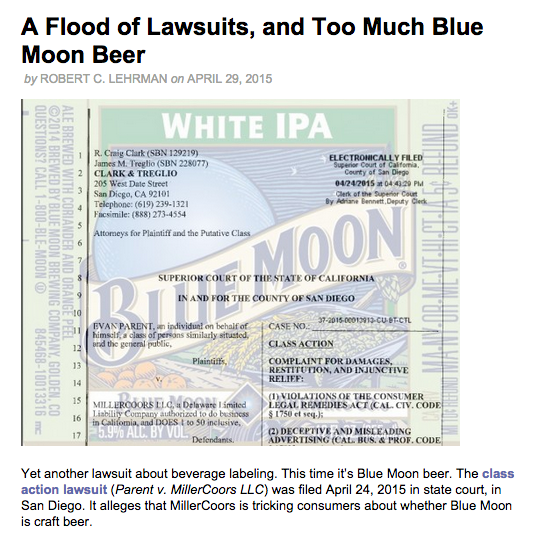 On April 24, 2015, a class action lawsuit was filed in state court against MillerCoors LLC, alleging that the company's Blue Moon beer deceives consumers into thinking the product is "Craft" by marketing the brand as "Artfully Crafted" and disassociating it from MillerCoors. See Parent v. MillerCoors LLC. The plaintiff alleges that MillerCoors "goes to great lengths to disassociate Blue Moon beer from the MillerCoors name" (i.e., MillerCoors does not appear on the bottle of Blue Moon, Blue Moon's website does not mention MillerCoors, asserting that Blue Moon is brewed by Blue Moon Brewing Company, etc.). The alcohol beverage attorney Robert Lehrman reports more about the suit on his blog here. 
As On Reserve previously reported, a number of class action lawsuits have been filed against beverage companies in regard to terms like "handmade," "small batch," "handcrafted," and similar on their labels. See Post-Pom Wonderful and the Not So Wonderful Impact on Alcohol Beverages. These are terms that are not necessarily defined by regulators, but since the Supreme Court's ruling in Pom Wonderful LLC in mid-2014, the number of lawsuits targeting alcohol beverage and food companies in the context of these terms has steadily increased. Of course, Pom Wonderful dealt with whether a competitor could bring a Lanham Act claim alleging unfair competition from false or misleading product information on food and beverage labels regulated by the FDA, and the above referenced cases were not brought on behalf of competitors (they are mostly class actions). In the class action suits currently before various courts, the focus thus far remains on beers and distilled spirits, but it may not be too long before wine is subject to similar suits.
This new case focuses significantly on how Blue Moon is represented, marketed, and advertised to the consumer with respect to allegations under California State law (i.e., misleading and deceptive advertising) and unfair business practices, but it still touches on a key term (i.e., "Craft" in "Artfully Crafted") and how the beer is presented to the consumer.
Image from Bevlog.
For more information on wine or alcohol law, labeling, or trademark, please contact Lindsey Zahn.
DISCLAIMER: This blog post is for general information purposes only, is not intended to constitute legal advice, and no attorney-client relationship results. Please consult your own attorney for legal advice.