Last week, On Reserve reported about the class action suit filed against MillerCoors in regard to the Blue Moon malt beverage. See MillerCoors Hit with Class Action Suit for Use of "Artfully Crafted" on Blue Moon Beer. The suit alleges that the company's Blue Moon beer deceives consumers into thinking the product is "Craft" by marketing the brand as "Artfully Crafted" and disassociating it from MillerCoors. See Parent v. MillerCoors LLC. The complaint outlines the requirements, as determined by The Brewers Association, that must be met in the eyes of the Association for a brewery to qualify as an American craft brewery, including:
Must produce less than 6 million barrels of beer annually;

Be less than 25 percent owned or controlled by a non-craft brewer; and

Make beer using only traditional or innovative brewing ingredients. 
Id. at 4. The above is actually directly from the Brewers Association website, which attempts to define "craft brewer." It should be noted that TTB, the federal agency that with primary jurisdiction over the labeling and advertising of malt beverages, does not provide a definition of "craft," "craft beer," or "craft brewer" (but TTB does, for example, differentiate brewers with respect to excise tax liability for matters pertaining to report of operations for quarterly reporting versus monthly reporting).
This lawsuit is different from similar class actions filed against alcohol beverage companies in that it looks to how the beverage is advertised or presented to the consumer holistically, and does not focus solely on the product's label. Other suits currently involve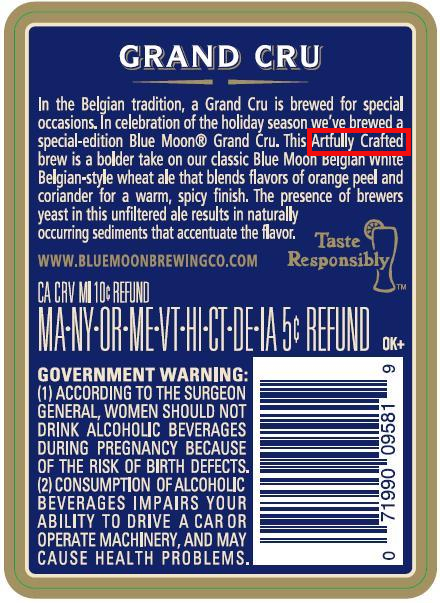 claims, such as "HANDMADE," displayed largely and proudly on the beverage product's label, and directly presented to the consumer at the point of purchase. After searching the TTB label approval database, it seems that Blue Moon has one label approval for a malt beverage that even mentions the phrase "Artfully Crafted" on its label (pictured right, red text added for emphasis). This does not discount the possibility that other materials—such as posters or display material—not affixed to the bottle may be presented to the consumer at the time of purchase and may boast the term "Artfully Crafted." In fact, this seems to be the case with Blue Moon, and the essence of  at least one of the claims in the complaint against MillerCoors. But is using the term "crafted" sufficient to say a beer is marketing itself as craft?
The complaint also alleges that MillerCoors "misleads consumers to
believe that Blue Moon is an independently brewed, hand-crafted beer" and "fraudulently claim[s] that Blue Moon is brewed by Blue Moon Brewing Company [by] intentionally omitting the MillerCoors name from Blue Moon products and advertising . . . ." Id. at 4–5. While the MillerCoors site does designate its Blue Moon brand as one of its "craft" lines, the brewer is permitted (under TTB regulations) to use a "Doing Business As" (DBA) name on its labels without otherwise referring to the owner of the federal basic permit (in this case, Miller Coors; as per Section 8 of this COLA approval, it appears that this is what MillerCoors is doing). My general opinion is that it is not misleading to use a DBA name on a label, provided such has been added to the federal basic permit or otherwise approved by TTB. Using a DBA name on labels is actually common industry practice among brewers, custom crush facilities, bottlers, etc.
Ultimately, this new suit is a reminder to alcohol beverage companies that more than just labels are subject to class action suits. Additionally, it is a kind reminder that TTB does have jurisdiction over regulating advertising, websites, and other materials that are not affixed to the beverage's container (i.e., other than labels). 
For more information on wine or alcohol law, labeling, or trademark, please contact Lindsey Zahn.
DISCLAIMER: This blog post is for general information purposes only, is not intended to constitute legal advice, and no attorney-client relationship results. Please consult your own attorney for legal advice.