Last week, Franciscan Vineyards, Inc. of St. Helena filed an opposition to the mark THREE-EYED RAVEN, filed by Applicant Home Box Office, Inc., for alcohol beverages, energy drinks, and non-alcoholic drinks beverages and fruit drinks. Franciscan Vineyards opposes registration of THREE-EYED RAVEN on the grounds that registration is likely to cause confusion with several prior registrations owned by Opposer. Franciscan Vineyards is the owner is many marks containing the words "RAVENS," "RAVENSWOOD," and similar, in classes that appear to be expanding, including Class 33. See Franciscan Vineyards, Inc. v. Home Box Office, Inc. 
Opposer argues on the following grounds:
Likelihood of Confusion

— registration of Applicant's mark will cause the purchasing public to believe or assume that Applicant's Goods are made by, licensed by, controlled by, sponsored by, or in some way connected, related, or associated with Opposer, in violation of Section 2(d) of the Lanham Act. Id. at 4.

Fraud in the USPTO

— Opposer alleges that Applicant knowingly made a false and fraudulent statement in its application to register said mark, where Applicant stated it had a bona fide intent to use the mark in commerce or in connection with identified services in Class 32. Opposer states that Applicant has taken "no steps to commence use of its Mark . . . " and that USPTO relied on this declaration when it acknowledged filing and allowed Applicant to publish. Id. at 5.

No Bona Fide Intent to Use

— Applicant's filing intent is insufficient to establish a bona fide intent to use, and Applicant has taken no steps to begin commercial use of the mark either prior or subsequent to filing its application. Id. at 6.
In its opposition, Franciscan Vineyards is effectively asserting that registration of THREE-EYED RAVENS will cause consumers to erroneously believe there is some association between HBO's mark and one of Franciscan Vineyards' marks. Further, Franciscan Vineyards is claiming prior use in commerce with respect to the term "RAVEN" (or similar) in the class of alcohol beverages.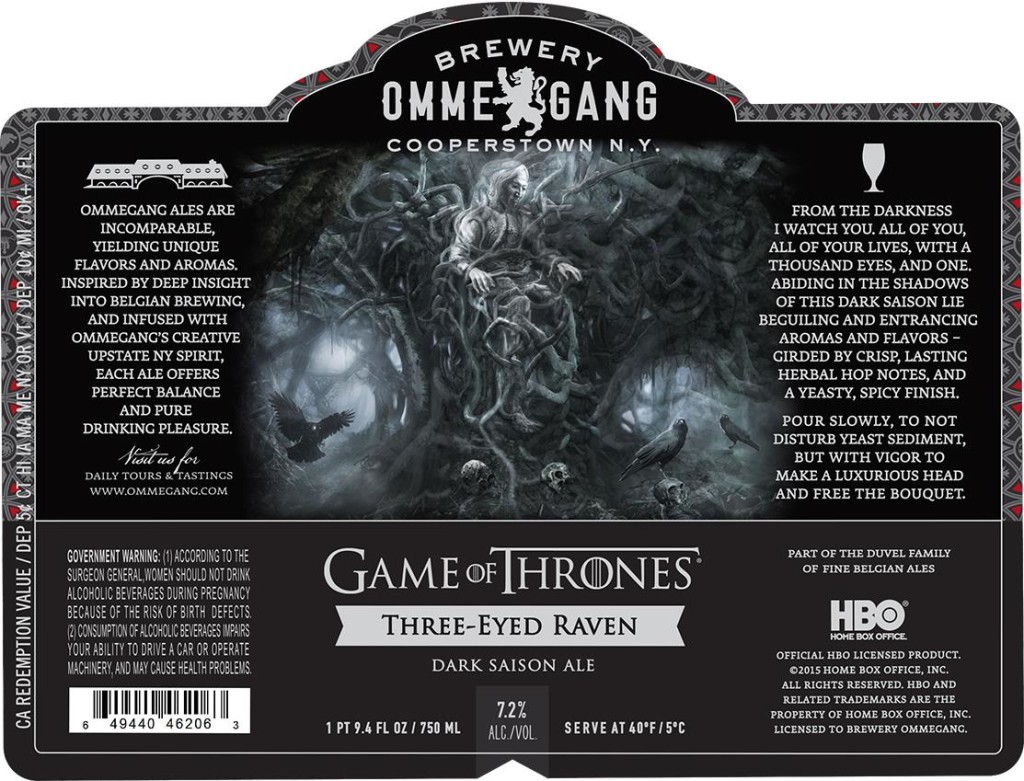 It will be interesting to see how HBO responds, as the opposition makes several strong claims without providing evidence (i.e., no intent to use the mark in commerce prior or subsequent to filing the application; and no steps to begin commercial use of Applicant's Mark prior to or subsequent to filing its application with the USPTO). It appears that there are two label approvals issued by TTB for Three-Eyed Raven Dark Saison Ale, dated November 2, 2014 (5.16 and 15.5 gallons) and November 4, 2014 (1 Pint 9.4 FL OZ). While a TTB label approval does not indicate use in commerce, it seems possible such may cut against Opposer's argument that HBO did not have an intent to use the mark at issue subsequent to filing its application in June 2014. However, other sources indicate the product may already be selling in commerce.
For more information on wine or alcohol law, labeling, or trademark, please contact Lindsey Zahn.
DISCLAIMER: This blog post is for general information purposes only, is not intended to constitute legal advice, and no attorney-client relationship results. Please consult your own attorney for legal advice.