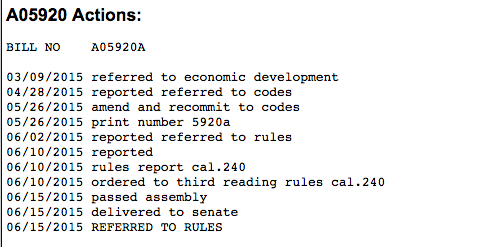 In promising news for industry members, the much talked-about "Empire wine bill" pending in both New York's Assembly and Senate passed in the Assembly on Monday, June 15, 2015. See A05920 Summary. Its sister bill, S04446A, is currently still pending in the state's Senate and, according to Capitol Confidential, "has advanced to the third reading — one of the final stops for legislation before coming to the floor for a vote. It has yet to be placed on the active list, though." See Bill rooted in Empire Wine case clears Assembly. Also reported by Capitol Confidential, the bill passed in the Assembly by 90-6.
The passing of this bill comes months after the New York State Liquor Authority originally cited the retailer for shipping wine directly to consumers in states where retailer direct shipping is currently prohibited. See Retailer Empire Wine Sues New York State Liquor Authority: Direct Shipping; see also Bill Introduced to New York State Assembly Supports Empire Wine.
The Assembly's approval is a strong step for the industry, as well as for Empire Wine. Even though the original citations were limited to one retailer, the Authority's exercise of its regulatory power produced significant questions from industry members and had the potential to adversely impact New York's business environment. While the Senate bill remains outstanding, it seems probable it will reach a similar fate in due time.
For more information on New York State wine or alcohol law, direct shipping, or establishing a New York beverage business, please contact Lindsey Zahn.
DISCLAIMER: This blog post is for general information purposes only, is not intended to constitute legal advice, and no attorney-client relationship results. Please consult your own attorney for legal advice.