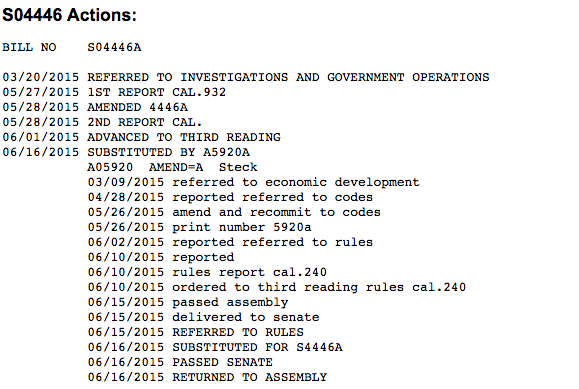 In case yesterday's news wasn't good enough for industry members, today we are here to repot something even better: the acclaimed Empire Wine bill passed today in New York's Senate. That's quite a successful move for a bill that was only introduced a day ago. The bill now awaits Governor Cuomo's signature.
The passing of this bill in the Senate comes months after the New York State Liquor Authority originally cited the retailer for shipping wine directly to consumers in states where retailer direct shipping is currently prohibited. See Retailer Empire Wine Sues New York State Liquor Authority: Direct Shipping; see also Bill Introduced to New York State Assembly Supports Empire Wine. Yesterday, the Assembly's version of the bill passed 90-6. See Empire Wine Bill Passes in New York State Assembly.
Proud to co-sponsor a bill (S.4446a), passed today, to protect small businesses from agency overreach and over-regulation. CC: @empirewine

— George Amedore (@GeorgeAmedore) June 16, 2015
I think this is, perhaps, one of the greatest reflections of our industry and the unity of its members in recent years—not to mention, highly demonstrative of the law at work. More so, a rewarding accomplishment for a local retailer who took initiative against the enforcement of a regulation that seemed arbitrary, unjust, and anti-business. New York's wine, beer, and spirits industry has experienced a true renaissance in the last few years and curtailing its development now would only undermine the local movement's bona fide destiny to continually grow and prosper. The movement in the last two days supports that New York is, once again, open for business. 
For more information on New York State wine or alcohol law, direct shipping, or establishing a New York beverage business, please contact Lindsey Zahn.
DISCLAIMER: This blog post is for general information purposes only, is not intended to constitute legal advice, and no attorney-client relationship results. Please consult your own attorney for legal advice.