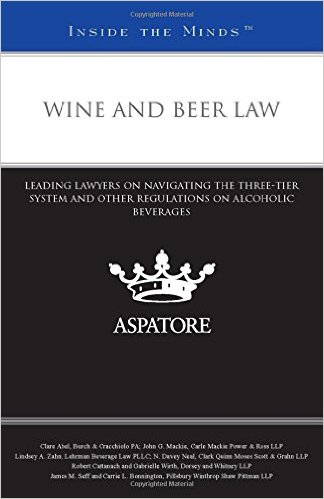 In February, Thomson Reuters released the latest version of its Inside the Minds series. The latest issue in the series is titled Wine and Beer Law and surveys insight from several U.S. attorneys in the alcohol beverage field. 
The chapters and authors include the following:
Clare Abel, Partner, Burch & Cracchiolo PA – "Staying in Compliance with the Wine, Beer, and Liquor Industry's Three-Tier System"

John G. Mackie, Managing Partner, Carle Mackie Power & Ross LLP – "Local Regulation of Wine and Beer Producers in California"

Lindsey A. Zahn, Attorney, Lehrman Beverage Law PLLC – "Navigating the Challenges of a Regulated Industry"

N. Davey Neal, Chair, Government Affairs Practice Group, Clark Quinn Moses Scott & Grahn LLP – "Current and Future Issues Facing Local Brewers and Vintners"

Robert Cattanach and Gabrielle Wirth, Partners, Dorsey and Whitney LLP – "Top Ten Pitfalls in Brewery and Winery Acquisitions"

James M. Seff and Carrie L. Bonnington, Partners, Pillsbury Winthrop Shaw Pittman LLP – "A General Introduction to Alcohol Beverage Laws and Regulations"
From Thomson Reuters:
In Wine and Beer Law, experienced lawyers examine various areas of law in the context of the alcoholic beverage industry. These experts discuss:

The system that's been in place since Prohibition ended

The recent changes and trends in that system

How attorneys and their clients can best work within the system

This book also covers mistakes to avoid when acquiring a winery or brewery, following the rules of the "three-tier system," and local regulations which are likely to spread across the country, as well as other areas of law affecting this industry. Whether you represent a winery or brewery, a distributor, or a restaurant or bar, the advice and perspectives in Wine and Beer Law will help you comprehend the state of alcoholic beverage law today.
See more at Wine and Beer Law: Leading Lawyers on Navigating the Three-Tier System and Other Regulations on Alcoholic Beverages (Inside the Minds).