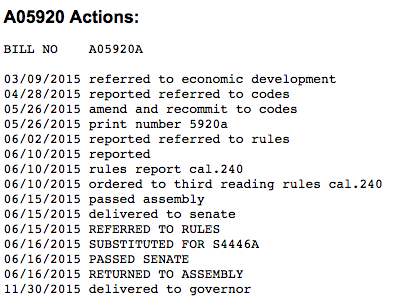 On November 30, 2015, the two talked about bills, A05920 and S04446, in New York's Assembly and Senate were delivered to Governor Cuomo. A05920 was introduced to the Assembly in March of this year by Assemblyman Phil Steck and proposes to amend New York State's alcohol beverage laws.  See Bill Supports Empire Wine Sales; Bill Would Curb SLA's Power Over Out-Of-State Wine Shipments. The bill will reportedly stop the NYSLA from revoking licenses of an in-state alcohol business if the business violated the law of another state. Id. A05920 was passed by the Assembly in June and its sister bill, S04446, was passed by the Senate one day later. See Empire Wine Bill Passes in New York Assembly and Empire Wine Bill Passes in New York State Senate. Since June, the bills have been waiting to reach the Governor's desk in hopes of being signed into law. 
For more information on the origin of the bills, see Bill Introduced to New York State Assembly Supports Empire Wine.
For more information on New York State wine or alcohol law, or establishing a winery, brewery, or distillery in New York, please contact Lindsey Zahn.
DISCLAIMER: This blog post is for general information purposes only, is not intended to constitute legal advice, and no attorney-client relationship results. Please consult your own attorney for legal advice.