As the holiday season approaches and you are searching for a gift for a fellow wine lover, why not consider a subscription to Wine of the Month Club? The company's catalogue is flexible enough to meet a variety of budgets, whether you're searching for a wine gift basket or a monthly wine subscription. The below review is for the Wine of the Month Club's Classic Series, which was a sample I received from a media contact. My shipment contained a bottle of Longitud 2013 Cabernet Sauvignon (Chile) and Red Autumn 2012 Chardonnay (California).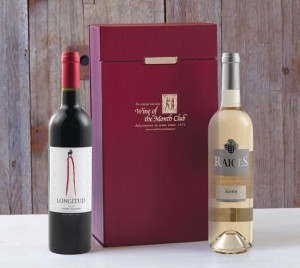 Initial impression: The Wine of the Month Club arrives in a beautiful and impressive package: a crimson-colored box adorned with gold foil lettering and a magnetic flap opening. If I were sending this item to a friend as a gift, I would not be disappointed in the club's presentation. However, the only downside (in my opinion) is that the package is not a box or an item that will likely be used again or repurposed by the recipient. I suppose you could store other wines inside of it, or let it sit out on a shelf (but with four or more shipments per year, this seems unnecessary), and its "re-gifting" capabilities are limited to nonexistent.  So, in the end, despite being a superb container, its functionality is somewhat finite.
Longitud 2013 Cabernet Sauvignon: The first thing I noticed about this wine (aside from its beautiful label) is its intense maroon meets ruby color. It is a remarkable color and, to me, one that certainly comes close to or matches the color of several Napa Valley cabernets I've tasted.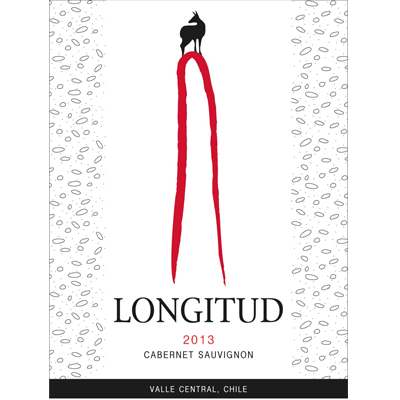 A few swirls reveal a moderate amount of legs (or tears) and, from its nose, some black currant overtones. Its taste is quite certainly full of cherry, which I noted well before reviewing any of the accompanying brochures. I tried Longitud in several different fashions, and far preferred it decanted as the wine's body seemed enriched in comparison. It is certainly a wine that needs to breathe before tasting. While it is not a particularly complex or full bodied wine, it is extremely fruit forward and does exhibit some spices as can be expected by a traditional cab. (My cohort found the spice more pronounced than I.) The wine also has a bit of an aftertaste. Wine of the Month Club notes this wine is $18.99 at retail. While it is an enjoyable wine, it's not one I would value at almost $20 a bottle (perhaps closer to the $15 range). 
From Wine of the Month Club (alcohol by volume percentage corrected to reflect actual bottle received):
Origin: Chile

Appellation: Valle Central

Color: Deep, dark crimson

Nose: Black cherry with berry and cocoa

Palate: Cherry with hints of leather and spice

Finish: Very berry with cherry and vanilla

Alcohol: 13.5% ABC

Drink now through 2015

Wine of the Month Club Rating: 95 Points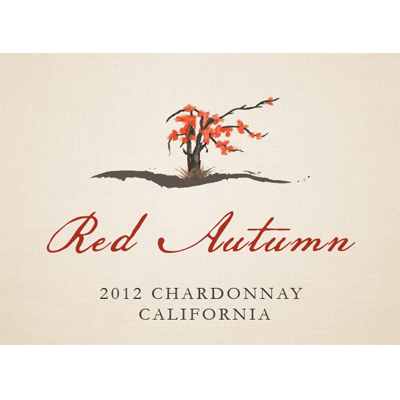 Red Autumn 2012 Chardonnay: Its name is completely misleading, because Red Autumn is far from red. What I love about this chardonnay is that classic, buttery aroma the second I pop open the bottle. It has that piercing yellow or creamy yellow color that corresponds with its buttery nose. I didn't find this wine to have a particularly fruity nose, but its palette is very citrusy (grapefruit sings loud for me). This chardonnay is not very oaky, but is does have subtle oak hints to suggest it may have been aged in oak for some of its span. Red Autumn is smooth and lively, and is a chardonnay I'd definitely drink in the autumn or winter months with dishes highlighting sweet potatoes, butternut squash, or acorn squash. I did find it crisp and with slight minerality, but Napa Valley AVAs exhibit more minerality. (Note the appellation below.) Wine of the Month Club indicates this wine is $18.99 at retail, which I think is on par for a wine with this particularly strong profile and definition.
From Wine of the Month Club (alcohol by volume percentage corrected to reflect actual bottle received):
Origin: California (Vinted and bottled in Napa)

Appellation: California

Color: Bright yellow

Nose: Pear and spice

Palate: Pineapple and pear with a hint of spice

Finish: Lemon peel, apple, and vanilla

Alcohol: 13.9% ABC

Drink now through 2015

Wine of the Month Club Rating: 94 Points
From the Company
About the Original Wine of the Month Club®: Serving both the novice and educated wine enthusiasts nationally for more than three decades, the original Wine of the Month Club® is a highly-rated mail order wine service that offers its members hand-picked selections of fine wines from the world's finest growing regions in such diverse areas as California, Oregon, Washington, Italy, Spain, France, Germany and Australia. Each month more than 400 wines are tasted and evaluated for club selection and brought to the members at extraordinary prices. Members may shop online from a full selection of wines in the "Wine Shop," gourmet gifts and wine accessories. Our newsletter contains fascinating insights into the featured wines, gourmet recipes and serving tips for wine lovers. The club is FREE and you never pay for a wine you do not like. The original Wine of the Month Club® houses a wide selection of award-winning wines at a 10,000 square-foot retail space/warehouse in Monrovia, California. For more information, please visit www.wineofthemonthclub.com or www.wineofthemonthclub.tv.
Photographs courtesy of Wine of the Month Club.